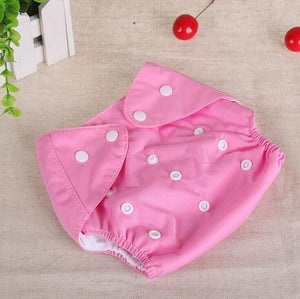 Cotton Candy Cloth Diaper
Regular price
Sale price
$ 16.95 USD
🚚 FREE Worldwide Shipping!
Over 27 Billion disposable diapers are thrown out each year in the USA!
Cloth Diapers are the solution!
Adjustable in both size and absorbency. Adjust the size as your baby grows.  Stuff it with as little or as much absorbency as you need to get you through a quick trip to the store, a long car ride, or maybe even overnight. 


The diaper has an outer layer of laminated polyester knit to keeps wetness in, and the inner layer is your choice of breathable mesh for the summer, and insulating cotton for the winter.
Diaper Fabric Content: 100% polyester
Weight Range: 11-26.5 lbs (5-12 kgs).
Inserts Fabric Content: 100% cotton (Sold separately)
Before using the diapers:  wash and dry your diaper once in hot or warm water (up to 140F/60C) prior to first use.  
The average baby will Cost you $3000 in disposable diapers before potty training! 
Buy now, and Save money!
General Wash & Care: Keep your wet and dirty diapers in a diaper pail.  If you've stuffed the inserts inside the diaper, shake out the insert into your pail and throw the diaper in after changing your baby.   

Wash your diapers in warm water (up to 140F/60C) on regular cycle.  Follow the recommended amount of detergent as stated on the soap's packaging based on your load size.  Too much will leave residue causing your diapers to possibly stink, leak, or leave baby with a rash.  Too little will not leave your diapers clean and cause it to stink and/or leave baby with a rash.  

An additional rinse can be used for particularly soiled loads. Make sure that your diapers are rinsed clean. Any residue from poop, urine, or detergent can make your diapers smell.  

Tumble dry on warm/hot up to 140F/60C or line dry. 

Do not use fabric softener.  It will coat the diapers making them water repellent and reduce the absorbency of the diaper. Be aware that if you use dryer sheets in your dryer for other laundry this can coat your dryer and transfer to your diapers.  
Do not use bleach.  This will cause the fabric's fibers to break down.  
Do not stretch the diaper while it is still warm.  Allowing the diaper to cool after taking it out of the dryer will extend the life of its elastic.
Do not use diaper rash creams without using a protective liner between your baby's skin and the diaper.  Creams will leave a waxy residue on the fabric making them less absorbent, water repellent and may potentially cause leaks.  If you need to use a rash cream, you should use a stay-dry liner or a piece of fleece between your baby's bottom and the diaper to prevent the cream from transferring onto the diapers. 

Stain removal.  If staining occurs, it is important that any products used on the diapers and covers to remove the stains are mild so as not to irritate the baby's skin and/or cause the diapers to prematurely deteriorate.  In most cases, laying the stained diapers out in the sun is the safest and most effective way of removing stains.
Inserts are sold separately!

Due to High Demand, Please
Allow 2 - 6 weeks for Shipping